Aaron Brillstein
Attribution
Full Name:

Aaron Brillstein

Aliases:

Shakespeare

Occupation:

Captain
Co-Owner Desert Shade French Cuisine Restaurant

Citizenship:

American

Affiliation:
Powers: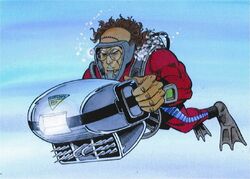 Aaron Brillstein is an urban intellectual, but that does little to alter his effectiveness in combat. Like Charles Palmer and Marion Virgil Peeves, Aaron is a veteran of the Viet Nam War, where he spent a lot of time in prison camps. Aaron co–owns the Desert Shade restaurant in Santa Fe, New Mexico, an establishment that specializes in French cuisine.
Aaron is a poet warrior, the heart and soul of the HARD Corps team. An intellectual who justifies what he does in battle, Aaron has both the loyalty and artisan of a samurai. He serves to boost morale on the team, though he usually seems to keep a respectable distance from others.
Ad blocker interference detected!
Wikia is a free-to-use site that makes money from advertising. We have a modified experience for viewers using ad blockers

Wikia is not accessible if you've made further modifications. Remove the custom ad blocker rule(s) and the page will load as expected.