Carol Hatcher
Attribution
Full Name:

Carol Hatcher

Aliases:

Sonar

Affiliation:
Powers:

None

Abilities:

The Sonar suit can direct sound at any given frequency to vibrate, move or destroy an object.
Carol Hatcher was a star tennis player engaged to marry Richard Grant, until she became a part of Project: Secret Weapons and Neville Alcott gave her the Sonar suit.
Due to neurological damage from the suit and Richard's death, Carol temporarily resigns, but eventually she returns to the team and serves alongside them for many years afterwards.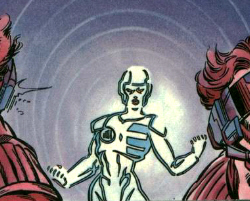 Ad blocker interference detected!
Wikia is a free-to-use site that makes money from advertising. We have a modified experience for viewers using ad blockers

Wikia is not accessible if you've made further modifications. Remove the custom ad blocker rule(s) and the page will load as expected.