Jan Chahosky
Attribution
Full Name:

Jan Chahosky

Aliases:

Maniac

Occupation:

HARD Corps Operative

Citizenship:

American

Affiliation:
Powers:
Jan Chahosky spent time in Viet Nam, much of it in prison camps, with Aaron Brillstein, Marion Virgil Peeves, and Charles Palmer.
Jan's hotheaded lust for a good fight cost him his life in a HARD Corps raid of a Harbinger Foundation data bunker when his brain–pop sequence activated before the mammoth–Eggbreaker Big Boy could kill him.
Aaron avenged Jan's when he slew Big Boy with a nastily applied Force Field.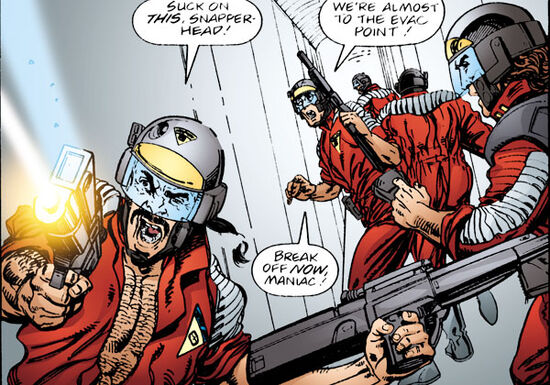 Ad blocker interference detected!
Wikia is a free-to-use site that makes money from advertising. We have a modified experience for viewers using ad blockers

Wikia is not accessible if you've made further modifications. Remove the custom ad blocker rule(s) and the page will load as expected.