Jessica Alcott (Deceased)
Attribution
Full Name:

Jessica Louise Alcott

Occupation:

Nurse (former)
Intelligence Agent (former)

Citizenship:

British

Known Relatives:
Affiliation:

British Intelligence
Jessica Alcott is the wife of Neville Alcott and mother of Jillian Alcott. She is also a field agent in British intelligence who, before she meets her ultimate demise, helps get information on Project Rising Spirit, the Para-human program created by Hideyoshi Iwatsu.
As a nurse, Jessica meets Neville while he is recuperating from the accident he sustained in Dunkirk, and after British Intelligence recruits him following his stay, she follows him into intelligence work.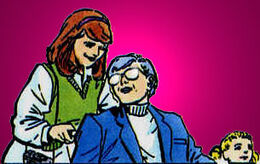 After the Crown discontinues the Project Hope and Glory Para-human experiments when Jonathan King refuses to allow his son, Colin King, to be subjected to any tests, Neville and Jessica resume the experiments with a series of injections prior to Jillian's conception, but when she fails to show any enhanced abilities like Colin did, the experiment is considered a failure. Neville suspects that the difference between the births is the timing in which the experiments took place, as Catherine King was already pregnant with Colin when she began the treatments, which was not the case with Jessica Alcott.
In 1986, while Jessica is on a mission in East Berlin, Aaron Herkovitch, a double agent and her secret lover, betrays her. While Augustus Silkowski holds Jessica as his prisoner, Neville tries to bluff him and he executes Jessica as a result. Neville tries to keep the facts of Jessica's death from his daughter, Jillian, but she is captured herself and learns the details of her mother's death from Mohammed Mekkel, a former intelligence agent. Neville fears that he will lose his daughter and her love once she learns the part he played in Jessica's death, but Jillian assures him that can never happen.
Ad blocker interference detected!
Wikia is a free-to-use site that makes money from advertising. We have a modified experience for viewers using ad blockers

Wikia is not accessible if you've made further modifications. Remove the custom ad blocker rule(s) and the page will load as expected.