Jillian Alcott
Attribution
Full Name:

Jillian Mary Alcott

Aliases:

DeathAngel

Occupation:

MI-6 Liaison Officer (former)
MI-6 Field Agent (as DeathAngel, current)

Citizenship:

British

Known Relatives:
Affiliation:

British Intelligence

Powers:

Nanite-enhanced blood
As an MI-5 operative, Jillian serves as liaison between her father Neville Alcott and his agents, like Gilad Anni-Padda, Angelo Mortalli, Colin King and the Secret Weapons.
The Past Anew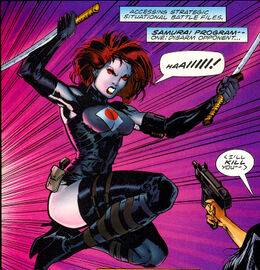 After Jillian received a blood transfusion of Bloodshot's enhanced plasma, her DNA, which had been altered by Project Hope and Glory and provided her with Para–human abilities, enabled her to survive the nanites, which tended to be fatal to anyone other than Harbingers like Bloodshot, whose ability kept him alive.
The Return of Rising Spirit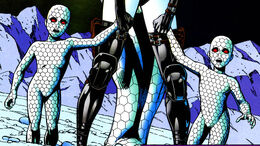 While it seemed like Jillian had received all of Bloodshot's abilities, including the power to control electronics, she later revealed that she was only able to do so because she was pregnant with Bloodshot's twins, and once she gave birth to them she lost the ability to control electronics.
Deathtrap
Like Bloodshot, Jillian apparently died in an explosion in the Arctic during an encounter with Proteus.
Ad blocker interference detected!
Wikia is a free-to-use site that makes money from advertising. We have a modified experience for viewers using ad blockers

Wikia is not accessible if you've made further modifications. Remove the custom ad blocker rule(s) and the page will load as expected.