Kandi Kane
Attribution
Full Name:

Kathy Kowalski

Aliases:

Kandi Kane

Occupation:

Stripper

Citizenship:

American

Date of Birth:

1961

Place of Birth:

Highland Park, New Jersey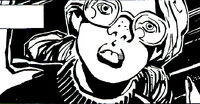 An abused and pregnant orphan from Highland Park, NJ, Kathy Kowalski flees to New York where she gets an abortion. Lacking the skills to survive on the New York streets, she becomes Kandi Kane.
Begging, borrowing, and stealing so she can become an attractive woman that can turn guys on, Kandi has power unlike Kathy ever had.
When she is 17 and a half, she gets her first job at Fourth from the End in Hugh Gordon's Up Front Revue.
Ad blocker interference detected!
Wikia is a free-to-use site that makes money from advertising. We have a modified experience for viewers using ad blockers

Wikia is not accessible if you've made further modifications. Remove the custom ad blocker rule(s) and the page will load as expected.