Rai Globe
Attribution
Name:

Rai Globe

Location(s):
Population:
Owner(s):
Importance:

The Home of The Rai
For forty-one generations, Rai, the spirit guardian of Japan, has known the life of privilege, the finest foods, the most spacious living pods, and the best that Japanese culture has to offer.
Accessible only through the Nerveweb, the pathway network that permeates the island-nation, the globe rests in the outer dermal layer of Japan in the western exterior of the host body.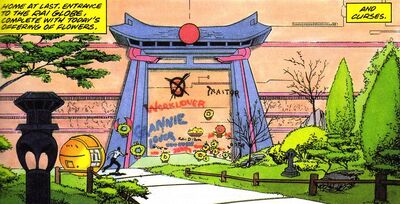 Following Japan's exile in orbit over the Earth, the citizens begin to adorn the entrance to the globe with offerings of flowers and curses for Tohru Nakadai, the 42nd Rai, out of respect and scorn respectively.
When Japan falls into the Indian Ocean after the God-like entity called Mothergod pushes it off orbit, the impact destroys the Rai Globe.
Ad blocker interference detected!
Wikia is a free-to-use site that makes money from advertising. We have a modified experience for viewers using ad blockers

Wikia is not accessible if you've made further modifications. Remove the custom ad blocker rule(s) and the page will load as expected.