Snakebite
Attribution
Full Name:

Aaron (Last name unknown)
Jacob (Last Name Unknown)

Aliases:

Snakebite

Occupation:

Mercenary, assassin

Abilities:

Skilled hand-to-hand combatant
Skilled with a variety of weapons, including a customized gun that fired poisonous tetrodotoxin pellets
Jacob and Aaron are twin assassins who use the pseudonym ''Snakebite'' to hide their identity. Snakebite is a mercenary known for poisoning his prey in extreme circumstances. When Helena Wolfbridge hires Snakebite to kill the surviving members of Department W, they track Aaron to Germany and kill him after he cryptically reveals that ''Wolfbridge'' sanctioned the hit.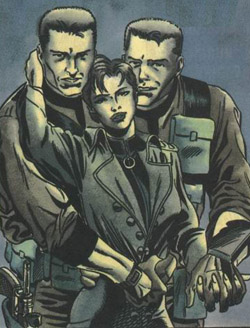 To further Helena's agenda, Snakebite frees Empath, Rage, and Field from a Harbinger foundation detention facility for unstable Harbingers in Springfield, Illinois. Together, the Harbingers and Snakebite defeat Aric Dacia when he arrives at the facility to investigate at the behest of Toyo Harada.
When Aric, sans his armor, attacks him, Jacob shoots him with a pellet that renders him unconscious and threatens his life. Only the timely intervention of Randy Cartier saves Aric's life. As Randy engages Snakebite in hand-to-hand combat, she lets him boast that he is her better and allows him to escape after she places a tracking device on him.
While Aric, Colin King, and Randy battle Wolfbridge's troops and her renegade Harbingers, Snakebite helps Helena make her escape, but when Randy blows up her rocket pack, she apparently kills her.
Ultimately, Snakebite surrenders.
Ad blocker interference detected!
Wikia is a free-to-use site that makes money from advertising. We have a modified experience for viewers using ad blockers

Wikia is not accessible if you've made further modifications. Remove the custom ad blocker rule(s) and the page will load as expected.